The Friends of Kastellorizo (formerly Australian Friends of Kastellorizo) was established to help create a positive future for Kastellorizo recognising our proud heritage and giving something back to the island of our forebears.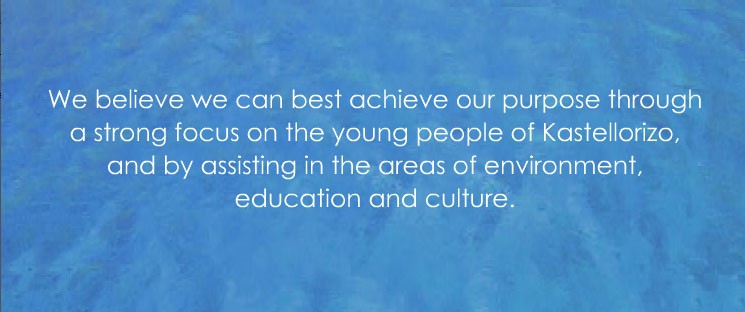 Aims
We believe we can best achieve our purpose through a strong focus on the young people of Kastellorizo, and by assisting in the areas of environment, education and culture.
In contributing our skills and resources for the benefit of Kastellorizo, we will:
Consult and work closely with the local people of the island, honouring their culture and values; and
Implement initiatives in a sensitive way, working collaboratively with all parties.
We aim to avoid involvement in local Kastellorizian politics or contentious issues.
We will actively seek involvement of people of Kastellorizian heritage to contribute to the future of Kastellorizo and gain a deeper understanding of the island.
We also welcome the involvement of all with a love for, or interest in, Kastellorizo.
We will liaise with the Worldwide and Australian State-based Kastellorizian Associations which cater for the requirements of people of Kastellorizian descent and welcome their participation in Friends of Kastellorizo.
We will proactively communicate our purpose and activities through a Quarterly Newsletter, entitled Filia.
Vision
To contribute our skills towards building a positive future for Kastellorizo by working with all those who love it and are committed to it.
Goals
To assist positively in the:
Environment
Culture
Education
Economics of the Island
Friends of Kastellorizo Minutes
Please click here to view all of the minutes from our meetings since June 2007.